As the old saying goes, "In the fall an outdoorsperson's fancy lightly turns to thoughts of gear." Okay, so that's not actually a saying, old or otherwise, but it is often true. As the temps drop, the snowflakes appear for some of us, and the holidays approach, those of us passionate about being outdoors see it as an opportunity to further expand upon the offerings of our gear closet (or, for those truly obsessed, their gear garage).
So OWAA's staff worked with a variety of brands, including several of those who are corporate members of OWAA, to bring you this list of great gear to gift, either to someone you care about – or yourself.
Artwork – Price Range: $65 – 5,000
There are several OWAA members who do their storytelling via artwork and illustrations. Molly Box just one of them and is an award-winning artist and graphic designer. She is best known for her signature mixed media drawings and oil paintings of North American wildlife and fish/fly fishing-themed work.
When you're out adventuring, this travel Yahtzee game is easy to pack and while you're playing you can celebrate America's national treasures and learn about the history and wonder of National Parks. You'll find unique icons like deer, a tent, and a canoe on the dice. And every purchase helps benefit the National Park Foundation.
This ultralight mini camp stove is a dupe for the well-loved Jetboil stove and is under $15. It weighs under 2 lbs. and can support about 11 lbs. as it's made of 60% titanium allow, 10% copper and 20% stainless steel. The best part is that it will boil your water at camp in about 3 minutes. The screw thread connector will connect to camping propane tanks.
These solar-powered lights provide up to 150 lumens and last up to 50 hours on a single charge. They're inflatable, so very compact and great for keeping your nights bright (and your pack light). It also has cell phone charging capabilities.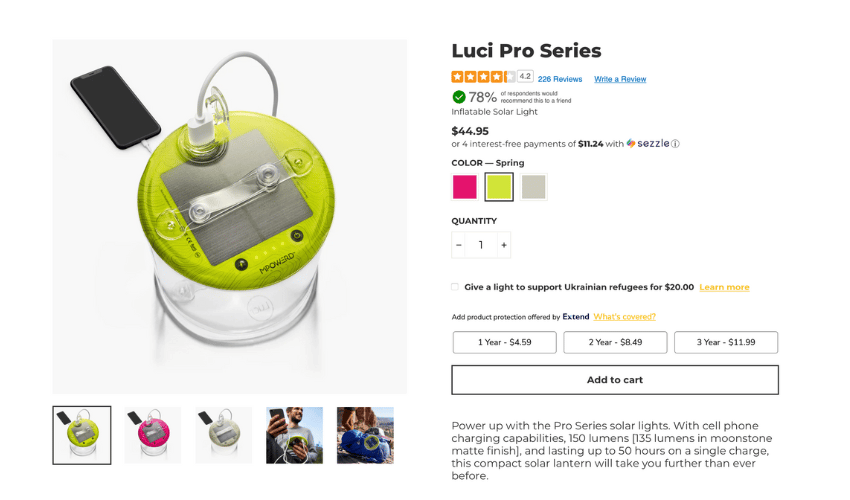 Books – starting at $6.95
As professional storytellers, the members of OWAA also love to read other's stories too. These days, we're all quite fortunate to have so many great books available literally at our fingertips. But you can narrow that field by first checking out the more than 100 guide books, instructional manuals, training guides and even works of fiction by OWAA's own authors at Bookshop.org. Or review the wide array of outdoor offerings from our partners at Far Country Press and Mountaineers Books. Be sure to check out the new title from Rue Mapp, the founder of Outdoor Afro, "Nature Swagger."
This is a great gift for the outdoorsy people on your list as it is compact and has 13 tools built into one unit — like a hammer, hex wrench, wire cutters, nail claw, bottle opener, saw blade, and pliers. It also has a non-slip handle.
These Kenai packable gloves by Kuiu are not only lightweight — weighing under 3 ounces — but they're also very warm and they easily compress down into a small mesh bag. With high-loft Primaloft Cross Core Aeorgel insulation, your hands will stay nice and toasty without the sweat. This is a wonderful gift for the avid hunters on your list who spend a lot of time out in cold weather.
This women's lightweight Guide DCS jacket by Kuiu would be a nice addition to any outdoorsy women's closet. The oversized pockets on the chest are a nice feature and the 4-way stretch lets you move freely in the field. The jacket is available in multiple camo colors and other solid colors and is an all-around versatile outdoor softshell. It's also incredibly comfortable and warm.
This stool is great for outdoor photographers who need a sturdy seat while out in the field. It can support up to 330 pounds and the 360-degree swivel is the main unique feature of this stool that allows you to easily see in all directions. The aluminum frame and durable nylon seat packs down to the size of a large water bottle, taking up less space than some camera lenses in your pack. It comes with a carry case and folds down to 11 x 3 x 3 inches. There is also a small mesh hammock pocket underneath that's great for holding small items like a memory card case and lens caps.
This headlamp flashlight combination is small and mighty. It's rechargeable, water-resistant, and is great for setting up a tent at night or trekking through your campsite hands-free to move about. It's a great addition to anyone's outdoor gear collection and will last for many years.
This packable chair is easy to carry and set up in the backcountry. It has a high back, sits low to the ground, and is surprisingly comfortable. If you're looking to save space, this chair does the job. It has an aluminum hub and pole system and weighs less than 2 lbs. and can support up to 250 lbs.
The Gift of Adventure
Instead of providing a loved one with yet another tangible 'thing,' you can give an experience instead. OWAA is fortunate to work with some trusted, high-quality tour operators who offer family trips, women-only adventures, and truly fantastic experiences around the world. Check out the array of fabulous trips from our friends at Explorer Chick, OARS and ROW Adventures, give one to your friends or family and create memories that will truly last a lifetime.
With 5-star reviews and made in the USA, these mid-weight cushioned socks make a great gift and will last many miles on the trails. They also come with the Darn Tough guarantee, so if they get wear, tear or develop holes, Darn Tough will replace them. They also come in multiple colors for both men and women. Shop Women's Darn Tough Hiker Micro Crew too!
Get your favorite hunter/angler the gift of content – for an entire year. MyOutdoorTV offers more than 17,000 episodes across 250 shows, including: MeatEater, The Western Hunter, Bone Collector, Zona's Awesome Fishing Show and more. It's 24/7 content and it's all ad-free!
MyTopo Map
MyTopo maps make great gifts. They come in ready-made frame size. You can select the most recent or historical maps. You can also opt to customize a map to personalize it with your name and title, center it any place in the US or Canada, add private property lines and more. Maps start at $16.95. We print and ship within 24 hours. To order, visit www.mytopo.com or call 877-587-9004.
If you're a side or stomach sleeper, a Zenbivy sleep system may be a dream come true for you or the avid camper or road tripper on your list. You could give the gift of a wonderful night's sleep in the backcountry this holiday season!
This staff favorite is a luxury item (and a long-term investment). The Zenbivy Luxe Double Bed 25° (50" x 77") paired with the Zenbivy Flex 3D Mattress is a wonderful outdoor sleep system. The mattress is 3 inches with a foam insert and is cozy like a regular mattress with a flat top and vertical side walls.
The Zenbivy Luxe Double Bed comes with a super soft 800 fill down comforter (with a built-in foot box for two) and an innovative sheet with an oversized hood to keep cold at bay. This system lets you sleep with a partner comfortably as you would in your bed at home. And it's also great for use in a van, car, tent or even an RV. Since the sleep system has a series of hooks and loops (no zippers), you'll never feel trapped or confined like a traditional sleeping bag. If you're looking for the best night's sleep outdoors, this Zenbivy sleep system is it.
Their trail meals use minimal preservatives and are customizable too. When you order from their website, you can have them include extras like single-serving hot sauces, cheeses, organic olive oil, crushed red pepper, dark chocolates, and more. There are meals that are Vegan or vegetarian, spicy, free of dairy (or other potential allergens), kid-friendly and even Keto. You can even order entire days' worth of provisions, based on your dietary preferences. Check out their Cauliflower Forest Chicken Risotto for one, or their High-Country Pad Thai. 
These collapsible water bottles are a favorite of our executive director. They're tough, durable, foldable and lay flat when empty. They're great for seatback pockets on long flights since they actually fit into the seatback pocket. You can freeze them, and they also make a solid pillow (or a warm water bottle) in a pinch.
This portable smokeless fire pit is ideal for all sorts of outside activities, from camping and hunting to tailgating. It can burn wood, pellets or lump charcoal and boasts a deck-safe heat shield and one-dump ash removal for easy clean up.
Ready in two minutes, this folding kayak makes a great gift — especially for the people on your list in urban areas. You can fit this kayak in the back seat of a car and it can support up to 350 lbs. It's sturdy and stable on calm waters like small lakes and ponds.
For the people on your list who spend a lot of time outside with small electronics in tow, Phoozy's TechCapsule is the perfect everyday carry pouch. Designed to hold a phone, chargers, cables, power bank, AirPods, and more, there are multiple sections for organization and the case has a waterproof shell so it'll keep technology and other gear dry. There is also a built-in thermal barrier to protect electronics from heat, cold, rain snow and mud.
This is a great 'grab and go' bag for a variety of adventures. It's made with 100% recycled materials, has a nice, wide opening that makes it easy to pack and convertible backpack straps are there for when you need them, either rushing through an airport or perhaps hiking into a backcountry yurt. You can always pair it with the Pack It Starter Set ($55) of packing cubes too.
Founded by a Croatian immigrant who fled his communist-controlled country in the 1950's, MagLite has been making their now-iconic flashlights since 1979. New this year, the Maglite XL50 flashlights are available in Mossy Oak's Bottomland and Country DNA camouflage patters. These water-resistant lights weigh less than 4 ounces and are a great addition to for any outdoorsperson's gear bag, someone's toolbox or just about anyone's glove box.
A cozy cotton flannel shirt that's imbued with technical performance, warmth and moisture management, it is one of Outdoor Research's best sellers. This season's version is lighter weight with a 60% cotton/40% polyester blend to offer the feel of cotton but the technical performance of synthetics.
A great blanket for car-camping, glamping or sitting around a backyard fire, The Argo uses plush polyester lining and compressible eraLoft insulation to provide packable, yet water-resistant warmth. There are a variety of prints and colors to choose from and snap loops allow you to use it as part of your sleep system. A draw cord at the bottom edge cinches to keep your feet toasty. Pair it with the Therm-a-rest Compressible Pillow($22.46 – $33.71) for a comfy backcountry (or frontcountry) combo.
A portable jump starter, USB charger and flashlight, it holds the capability to jump a 6L engine in seconds, at least 15 times with one charge. It's a great safety device to give to friends who are in the backcountry often, or just any driver that wants to have a little more piece of mind.
USDHandcrafted of 80CRV2 steel with removable handle scales. Inside the 3.25" blade's handle, a storage cavity holds a 12-foot fishing line and two fishing hooks. Inside the core of the paracord is snare wire, waxed wick, and extra fishing line. Made in the U.S.A.